Through his discovery of dynamite and the patent granted him (1867), Swedish inventor and chemist Alfred Nobel (1833–1896) quickly built up a considerable fortune. In his will and testament he stated that his fortune should be used to "create a fund, the yearly interest on which should be distributed as a prize to those who have contributed the most to humanity in the past year" (since 1901 called the Nobel Prize). The sum was to be divided equally into five for prizes in the following areas: physics, chemistry, physiology or medicine, literature and peace.
At the time, no one knew the extent of the impact Doppler's discovery would have on the development of some of these scientific areas. Currently, 24 Nobel Prizes have been awarded for achievements in medicine, technology, and natural sciences which would not have been possible without the use of the Doppler effect.
<! ========= Cool Timeline Free 2.7 =========>
Timeline
Proof of the Doppler effect through canal rays and the splitting of spectral lines in electric fields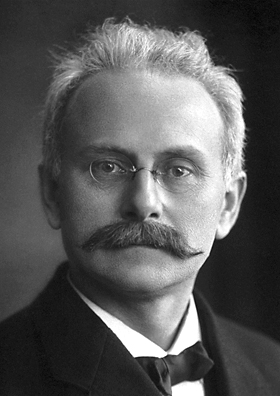 Johannes Stark (1874–1957, Germany)
Rationale for the award: "for his discovery of the Doppler effect in canal rays and the splitting of spectral lines in electric fields" (Stark-effect)
The German physicist discovered the optical Doppler effect in canal rays in 1905. He could prove experimentally Doppler's hypothesis that the movement of a source of light affected the frequency it emitted.