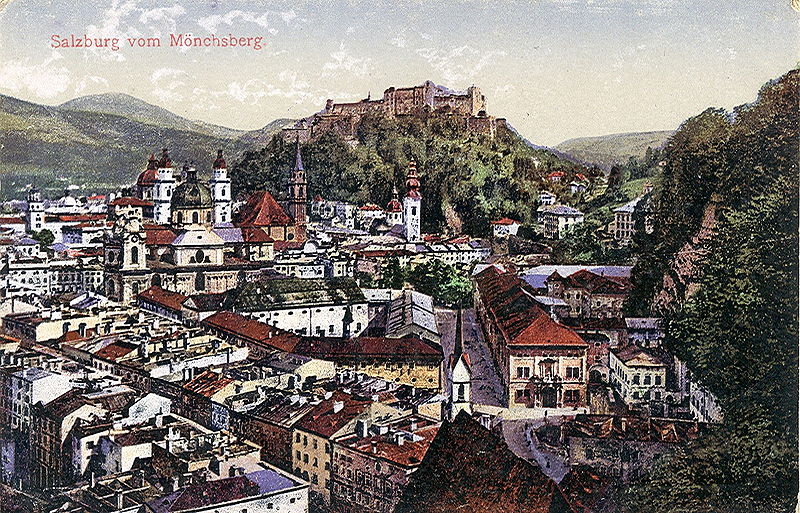 Christian Doppler was born and grew up in Salzburg. Here he attended various schools and his experiences set the course for his later life.
Birth
Christian Andreas Doppler was born at Makartplatz 1 on 29th November 1803. He was the third of five children born to master stonemason Johann Evangelist Doppler and his wife Theresia (maiden name Seeleuthner). Today the family home bears a plaque.
Schooling
From 1810 to 1816, Christian Doppler attended primary school in Salzburg.
Doppler then went on to attend the local selective high school at the recommendation of Simon Stampfer, who had recognised Christian's extraordinary mathematical talent. The intention was also to prepare Christian to become part of the slowly growing educated middle class, because, due to his delicate physique, he did not appear to be suited to taking over his father's stonemasonry business.
However, in 1819 his father removed him from the selective high school and sent him to the vocational Deutsche Normalschule in Linz. Here, Christian was expected to train as a professional in commerce in order to ensure himself a secure future. Nevertheless, after time spent in Linz and Vienna, in 1825 he returned to the academic secondary school in order to qualify for university.
Marriage
In 1836, the 32 year-old Doppler was living in Prague. He returned to Salzburg to marry the 24 year-old Salzburger Mathilde Sturm, the daughter of a respected Gold and silversmith. Thereafter, the Doppler family lived in Prague, and was blessed with five children.
More places
By clicking on the button "Load map", the map will be displayed and loaded on your PC by the persons jointly responsible with us (Wikimedia Cloud Services and unpkg.com). This may allow conclusions to be drawn about your identity.
Privacy policy of Wikimedia